Why Building Healthcare Buyer Personas Improves Your Bottom Line, Increases Census.
Understanding buyer personas is valuable within all businesses. In healthcare marketing, this is a necessity. A buyer persona is an example of a potential patient  who is searching for a new provider based on information they compile from your website, blogs, provider ratings and social media. Long gone are the days when the next patient 'just walked through the door.' Creating buyer personas is an essential marketing tool help new patients select you and your specialty practice. The new patient wants to know a lot about you and your team – qualifications, experience, reputation. So, having a consistently strong marketing strategy encourages decision makers to choose you.
In creating a buyer persona take into account the need of your potential patient. This improves their experience. By understanding their perspective, you show how well you can meet their healthcare needs.
Here's how to begin:
Compile basic info such as gender, age, income, education and geographical location.

Create online patient reviews via videos and/or quotes.

Reach out to these potential patients to thank them for their interest and ask a few questions to help determine their lifestyle interests as well as the issues they need resolved.

Track their engagement through software programs.
A MarketingSherpa case study found that buyer personas added the following value:

Why Should You Create a Buyer Persona today?
It's also important to create more than one buyer persona based on the demographics. By laser targeting your messages, you and your team provide intriguing story lines that will benefit your practice. Here's a recent report by ITSMA Survey.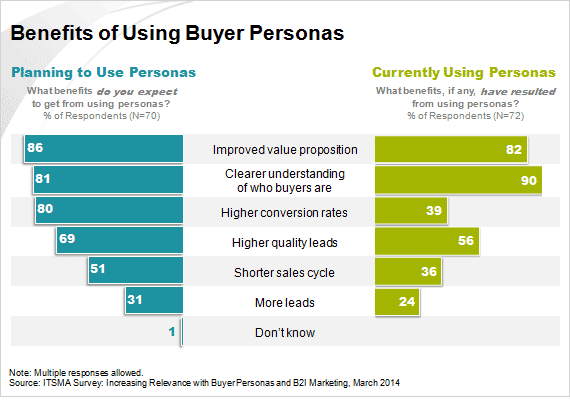 To summarize, there are three equally important types of research – three ways medical salespeople and marketers can find out about the people they want their personas to reveal:
Sales interviews

Customer interviews

External research
Next, convert this research into well-formed personas, that you and your team use – personas that get the right content to the right people at the right time. That's the kind of content that builds relationships, which result in building patient flow and retention.
How Buyer Personas Increase Census

By developing a particular "ideal" patient for marketing helps your team to hone marketing campaigns on a particular demographic. Multiple campaigns can focus on different demographics or even change from patient marketing into referral marketing, effortlessly
Your practice may utilize one campaign focused on children's preventative health , while another campaign targets adults.

As you can see, the true power of a buyer persona in the healthcare industry creates target campaigns, accurately. This removes any doubt over the creation of new content marketing campaigns. Now, you have logical expectations for the kind of sales that such targeted campaigns deliver. As a marketing tool, it is VITAL to any healthcare professional in streamlining content marketing plan.

Some doctors tend to distant themselves from "things retail." But applying the concept of a Buyer Persona is, in fact, a technique that has been used successfully to move away from the old school product-centric, impersonal mass-market retail world to a personalized, customer-centric mindset.
Summary
A well-rounded and detailed persona provides a more intimate understanding of the customer/patient from a marketing perspective. And it reveals opportunities to more easily communicate value, open the door to better connectivity, and position your practice or facility to guide marketing strategy and to deliver improved service and satisfaction.
Some of the benefits of building out buyer personas are:
Enables your company to identify with and understand targeted buyers
Provides insight to your sales team on the way buyers will most likely react and behave during the purchasing process
Helps to identify ways to overcome common objections, misconceptions, and reasons for buyers not buying your product or service
Improves sales and marketing strategies and tactics
Do you use any of these productive examples of building buyer personas to healthcare sales in your daily workflow? Feel free to boast about your success in the comments!
If you find yourself needing more help in developing your healthcare or medical buyer personas. Please download our super-easy to use
Free Buyer Persona Development Template
below
.