Discovery and Awareness Stage
The Discovery stage is the entry point into your funnel, your buyer is most likely unaware of your business and if they in fact have a need. This is your opportunity to target buyers when they research, browse and initially hear about your company, product or service.
Acquire customers early in the buying process in relevant and effective ways.
Our team executes both lead generation and inbound marketing methods to cast a wide net. So that your target audience quickly begins to become aware of their pain points. They haven't yet developed a preference for your solutions over those of the competition. The goal is to make it easy to capture interested prospects exploring your website and fill your funnel of potential sales leads. The sales funnel consists of two channels, the inbound channel and the outbound channel and the lead can enter through any channel.
Our inbound demand solution set is designed to do just that, — blogging, paid ads, social media management, SEO, dynamic landing pages and forms.
Through the various inbound demand generation tactics:
Business Blogging
Social Media Marketing
Search Engine Optimization
Visual Content Marketing
Email Marketing
Advertising (Search and Social Paid Ads)
Recommended Discovery Content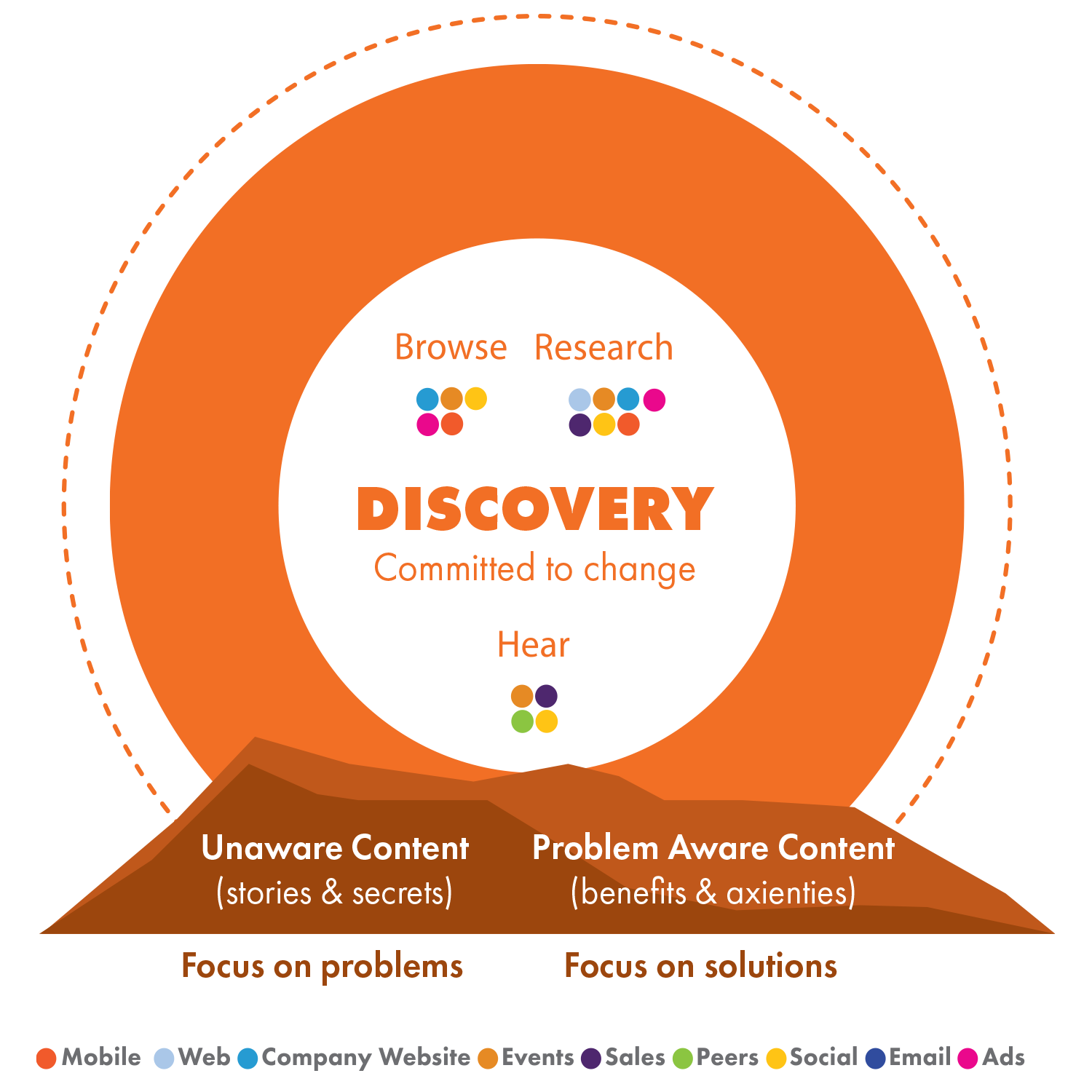 Marketing Tip
The customer content our team creates educates, identifies and hones their needs, problems and pain points — Not your product or business. In-market buyers turn to Google in the discovery stage of the buying process. It's urgent to get in front of these people immediately to increase engagement and conversion rates. They might find your paid ad or blog on tactical content they could use to combat their problems.
---
White-paper
White-paper is a valuable piece of educational content that contains both market and product data, explains methodology or describes a company's approaches. It can contain both market and product data.
Detailed guide
This content is educational and directed to your product or service. It serves to educate first, promote second. It's designed in a how-to style so it's not just educational, but also practical.
Free e-book
E-books are also perfect for evergreen or viral content and as lead assets: once you've created an interesting and useful ebook that is related to your niche, you can use it, again and again, for months and even years.
Practical checklist
A checklists can be used to helps identify problems that need to be solved, or as an action list that pushes your target audience to act and use your product or service.
Educational videos
Videos can also be used as viral or evergreen educational content. Videos are can explain and offer solutions to the potential customer's problems in just a few minutes.
Marketing Benefits
Inbound Demand Generation
Marketing often struggles to deliver sales ready leads – with the right content to qualify opportunities and contacts to increase pipeline
Lead Generation
Fill your database of potential sales prospects with CTAs, dynamic landing pages, forms and content that provides solutions to specific problems
Content Marketing
Consistently deliver highly targeted content that address customer pain points, answer their questions, and leads to increase engagement and conversion rates
Advertising
Deliver ads directly at scale to targeted researchers to increase awareness and consideration with dynamic account targeting and retargeting.
Retargeting Audiences
Target and acquire more customers that exhibit similar behavior as your most profitable customers, and that are most likely to follow in their footsteps across the path to purchase
Marketing Automation
Automate processes and reduce manual touches needed to engage a prospect, build, nurture, and manage relationships to increase conversions and successful outcomes
Interest and Education
At this stage, leads who move from the awareness stage into this stage begin to take notice of your skills and explicitly express interest in learning more about your company's product or service.
Lead Generation
Capture Interested Prospects.
Your target audience has engaged with content requiring them to complete a form confirming an unmet need and more importantly is the first step to becoming customers. The data you collect on leads at this stage shows you who they are, what they are concerned about, and how they prefer to access their content. This isn't the stage to start your sales pitch, but it's the perfect time to start gathering insight into your prospect's preferences. We make certain these types of resources are readily present on your website.
Through the various lead generation tactics:
Optimized Website
Premium Content Creation
Website Visitor Identification
Calls-to-Action Design
Landing Page Development
Dynamic Forms
A/B Testing
Progressive Profiling)
Consideration and Exploring Stage
This is the beginning of the sales and marketing funnel. At this point, buyers research and begin to eliminate vendors, compare the alternatives and begin to engage with you. Engaged individuals know they are in our database, and they expect us to email and communicate with them over time. The goal is to convince your prospect their problem can be solved, how useful it will be for them and how you are better than the competitors.
Create highly relevant, timely, personalized relationships communications.
After acquiring lead and collecting data from all of the buyer's journey is only the beginning. It's marketing's responsibility to manage the qualification of each lead that isn't sales-ready, develop long-term opportunities over time and identify short-term opportunities. The result, only the most qualified and educated prospects are passed to sales as "sales-ready" leads backed by qualified and verified data. To get there, you'll need a well-executed lead management framework to simplify alignment between sales and marketing. Our approach shifts the burden away from sales letting the sales team focus solely on qualified leads. Which is essential to achieving revenue targets because both departments are responsible for top-line growth.
Through various lead management tactics include:
Prospect & Sales Intelligence
Lead Scoring
Lead Segmentation
Email Marketing
Workflow Development
Lead Nurturing Campaign Development
Sales & Marketing Alignment
Behavioral Lead Tracking
Dynamic, Drip Campaigns
Shopping Cart
How Will You Grow?
Increase Prospect Engagement and Stay in touch and top of mind.
Personalized communications and build deeper customer relationships by conveying the appropriate message at the right time. We assist you to develop an automated lead nurturing processes that educates and promotes an ongoing conversation with your potential customers. The result, only the most qualified and educated prospects are passed to sales as "sales-ready" leads backed by qualified and verified data. Armed with quality data and experimenting, lead nurturing campaigns can provide more significant revenues without significant investments.
Recommended Consideration Content
Once again, content can help you convert more people from consideration to the decision stage of the buyer's journey.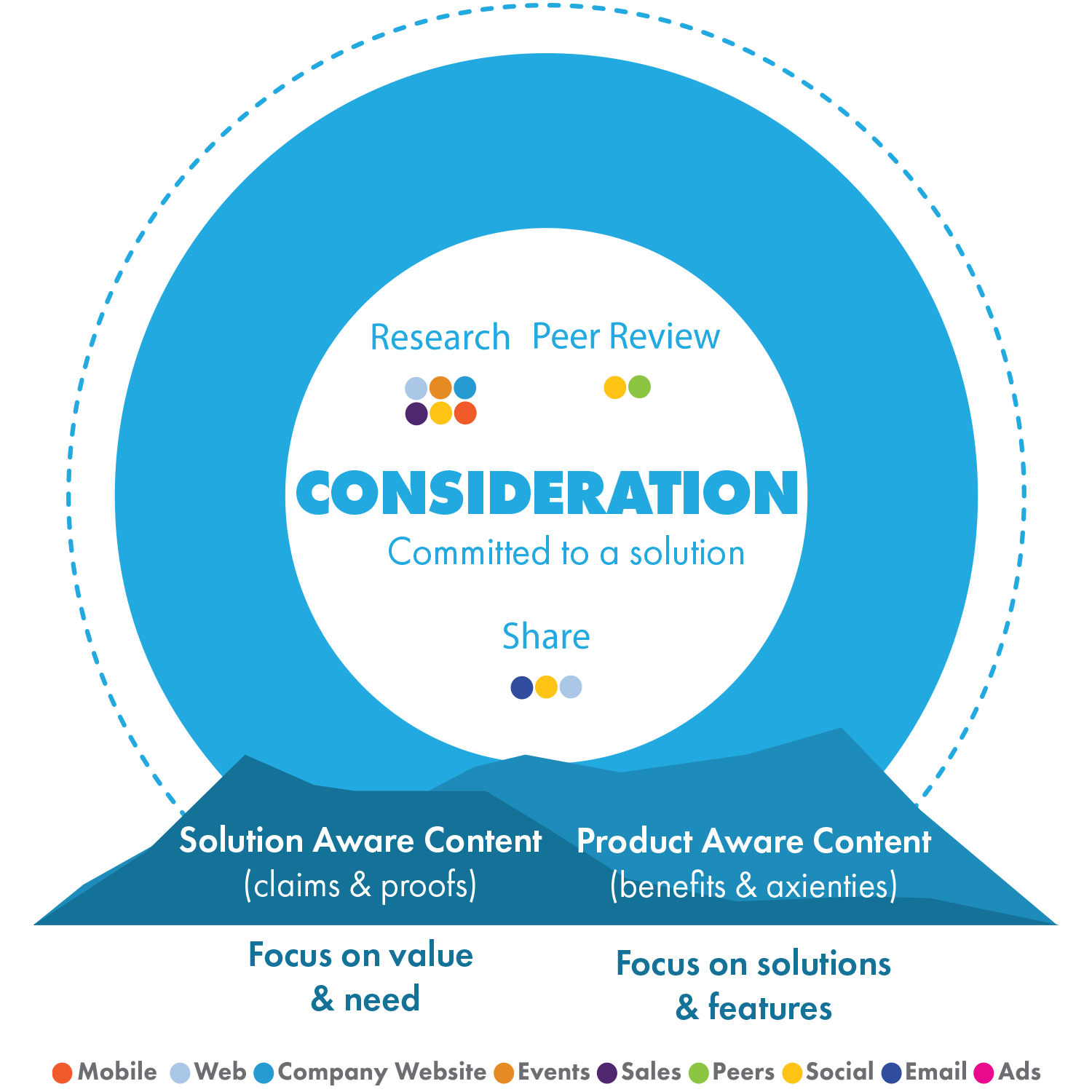 ---
Free webinars
One of the best content types to convert your audience from consideration to the decision stage. Webinars allow you to speak to a bigger audience and create a dialogue between you and your potential customers. It's a good idea to make your webinar half-educational/half-promotional: start with some useful tips and tricks, and then show how your product helps with the problems they are facing.
Case studies
Case studies are what many potential clients at the consideration stage are looking for, as these are the best demonstration of how your product or service helped other businesses. Case studies help convert like crazy, just make sure they are detailed enough in terms of the niche, the business, the problems, the solutions, and the results. The more elaborate and number-rich your case study is, the better. If you have any case studies – don't hesitate to include them in your email marketing.
Free samples
People love freebies, and if your business type allows you to send some free samples of your product, don't hesitate to use them in campaigns. This doesn't just work for physical products, for digital products it could be free reports, free analysis or anything similar. It's important to always remind people of the value of your free samples – it should be considered a generous offering, not a random default giveaway of whatever you couldn't sell. If possible, make your free sample personalized.
Specification sheets
Works best when you need to provide your target persona with more details on your product or service. This type of content is widely used by businesses that sell software, tools, technical services, platforms, automation tools and the like. Make sure to include features, benefits and even some case studies in your spec sheets, not just technical data. A call-to-action to request a specification sheet can be easily incorporated into your email marketing.
Catalogs
Catalogs is a must-have piece of content if you offer multiple products or services. Make it more educational by including use-cases and tips to specifications and descriptions. You can easily put a call-to-action to download or request a catalog into an email.
Marketing Benefits


Lead Targeting:
Send the right message to the right person based on any number of attributes

Consideration Content:
Educating your prospects around consumer pain points according to the buyer's journey stage

Lead Segmentation:
Segment leads from any campaign or channel to send out relevant messages and craft effective campaigns

Lead Scoring
: Allows marketers to qualify leads by assigning pre-determined values to their behaviors and profile characteristics

Leads Nurturing
: Keep new leads in the funnel via a mix of educational and other materials sent in a timed cadence

Buying and Decision Stage
The buyer determined they had a problem, researched possible solutions, deciding on the most preferred option and are now ready to make the purchase. This is the crowning moment of the preceding steps. The Buying stage directly impacts revenue, so prospects in this stage are sales accepted and are actively being worked by sales.
Increase Sales Productivity and Convert Opportunities into Sales.
We empower sales teams with the marketing intelligence they need to identify sales-ready leads, help them follow up as fast as possible and content. The goal is to help your sales provide value to prospects and customers based on a sound understanding of buyer interest, needs, and behavior. By allowing the sales team to focus solely on qualified leads that didn't convert. But remaining qualified for possible opportunities, results in a higher closing rate and a lower customer acquisition cost (CAC). Sales organizations may begin assessing future cross-sell and up-sell opportunities — when applicable — represent key strategies in this stage.
Sales Benefits
Increase overall sales, both for new and repeat customers
Shorten the sales cycle by 50% or more
Increase deal sizes
Increase sales quota achievement rates
Lower the cost per lead
Lower overall sales and marketing costs across the company
Increase alignment of sales and marketing teams
Recommended Buying Stage Tactics
Re-engaging with Closed-lost Opportunities
Persuade former customers to reconsider your offering based on improvements that address their pain points
Former Customers
Email campaigns by product designed to convince former customers to reconsider your offering based on improvements that address their pain points
Long-term Nurture
Series of emails designed to keep pipeline leads with longer purchase timelines warm.
Trackable Media Center
Tracking links and automation to notify sales reps when leads engage with content. Automated sales rep reminders to reach out by phone periodically
Follow-up Meeting Emails
Email drips that encourage leads to schedule other meetings, as needed
Lead owner alerts when meetings are booked.
Automated meeting confirmation and reminder emails to improve attendance
Post Sales Meeting Campaigns
Series of emails by product that dynamically display supplemental information based on lead's product interest
Sales collateral by product (e.g. customer testimonials, product feature sheets)
Trackable Media Center links and automation to notify sales reps when leads engage with content
Sales Team Conversion Tools
VisitorID email notifications to sales team for follow-up, lead activity alerts to sales reps when leads take (or fail to take.) action
Smart Mail Library built for conversion with Email Sync for optimal delivery
Email Digests – Deliver daily/weekly emails of important web visitors to sales team for follow-up
Lead Activity Notifications
Notify sales reps via text or email when leads take (or fail to take) action, such as:
Visiting important pages (e.g. pricing page)
Hitting "read-to-buy" lead score thresholds
Opening/not opening important emails
Viewing/not viewing important content, like contract proposals
Interacting with social media posts
Completing important forms
Smart Mail Template Gallery
Set of email templates optimized for conversion that your entire sales team can pick from to send to individual leads
Email Sync setup by sales rep, so emails are forwarded via IMAP for optimal delivery
How You Will Grow?
Automated lead scoring allows reps to identify and prioritize sales-ready leads based on points scored
CRM integration centralizes all interest data and histories in one place for sales to engage
Website prospecting gives sales immediate intelligence about who is visiting the website and what they're viewing
Create alerts for salespeople on hot lead activity so they can immediately reach out whenever a lead demonstrates interest in making a purchase
Use VisitorID to identify anonymous web visitors, and easily create new lead records using the integrated CRM
Built-in capabilities that directly impact sales' ability to meet and exceed its quotas.


Sales Productivity
accessing all the marketing intelligence, the automation platform targets accounts based on their behavior from multiple channels and sources, so it's easy for sales reps to remain in their CRM system

Lead Prioritization
score leads to indicating sales readiness. Those who are actively engaged, those that are not, and those that might require special attention— giving sales definitive knowledge on who to call, when, and what to discuss

Segmentation
real-time list of hot prospects, search history, and visitor tracking allow sales to triangulate on the hottest opportunities

Sales Intelligence
capture and share real-time sales intelligence from lead-tracking data gathered at multiple touch points

Targeting
sending the right message to the right person. Have visibility into who their most profitable customers are, where they came from, and how to find more like them. Cross-sell and up-sell to segment

Let's Discuss Your Priorities
If you have questions or you're ready to discuss how we can help improve your marketing performance and sales productivity, talk to a Solutions Consultant today. Call 1 (410) 929-2435 or contact us below.
---