Content Marketing Package Pricing That's Built Around Your Company's Goals
Our packages and rates are always priced according to the client's level of services needed. Your success is our success, so we customize our content marketing packages to achieve satisfaction of your number one concern … Profitability.
Consider Us An Extension of Your Marketing Team
We take the time to get into your head and understanding as much about your business as possible. We ask the right questions – that will reveal things about your company's marketing and sales process you may have never known. Think of us as an extension of your marketing department. For about the cost of hiring an administrative assistant, you can have our dedicated digital marketing team working to lower the cost to acquire and retain customers.
A few of the benefits we bring:
A single agency who is able to expertly handle your content development, design and distribution
A single fixed monthly cost with no fees or surprises
Content Marketing experts
Our in-house team of talent consists of content designers, content writers, mobile & website developers, and digital strategists

Our Content Marketing Package is for:
If you are a small business owner or CEO, VP, CMO or Director of Sales, content marketing service can help you manage expenses, increase your marketing reach above larger competitors and assure your buyers can find your products and services. Our method levels the playing field and gives businesses that have limited marketing and sales resources an opportunity to predictable, profitable revenue growth without drastically increasing their marketing costs or the size of their company.
Staff within your company say that writing isn't their strong point.
They don't have a professional skill set or design team to consistently create eBooks, whitepapers and information graphics.
Most of your business comes from cold calling, word-of-mouth referrals or repeat customers.
Lack of marketing or spending time and money on the wrong kind of marketing.
Integrated Digital Marketing Campaigns
You need a content partner who will do more than relying on a one or two tactic or a couple channels to drive results. Our integrated content marketing strategies significantly improve our clients marketing efforts. By achieving several wins in a number of key areas the collective results can be astounding.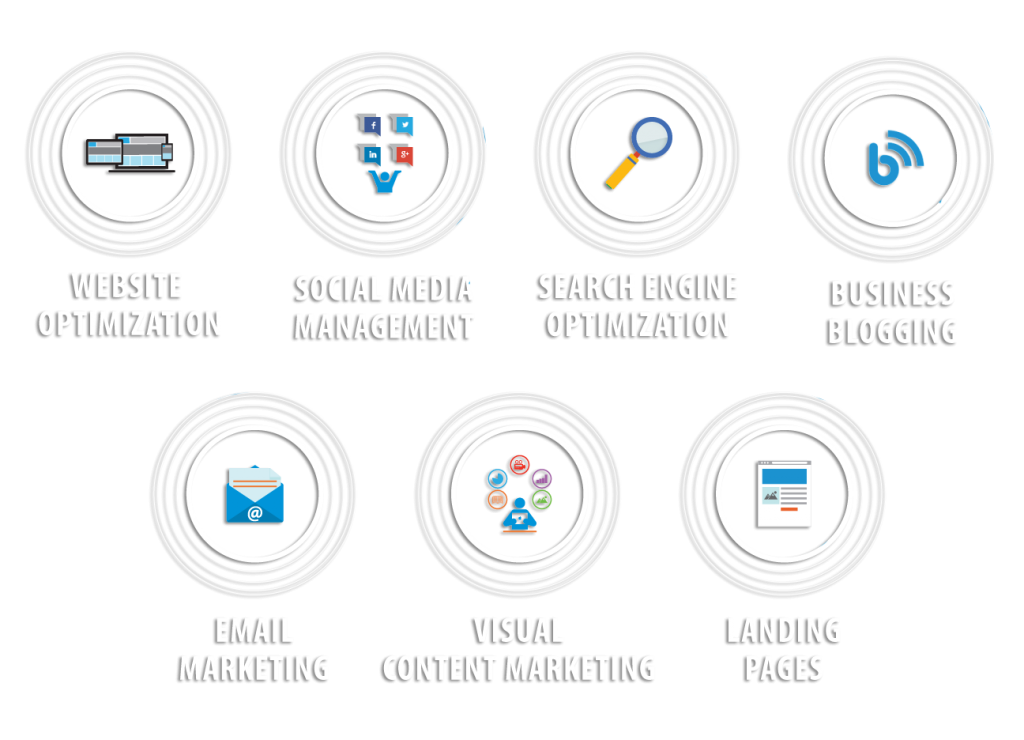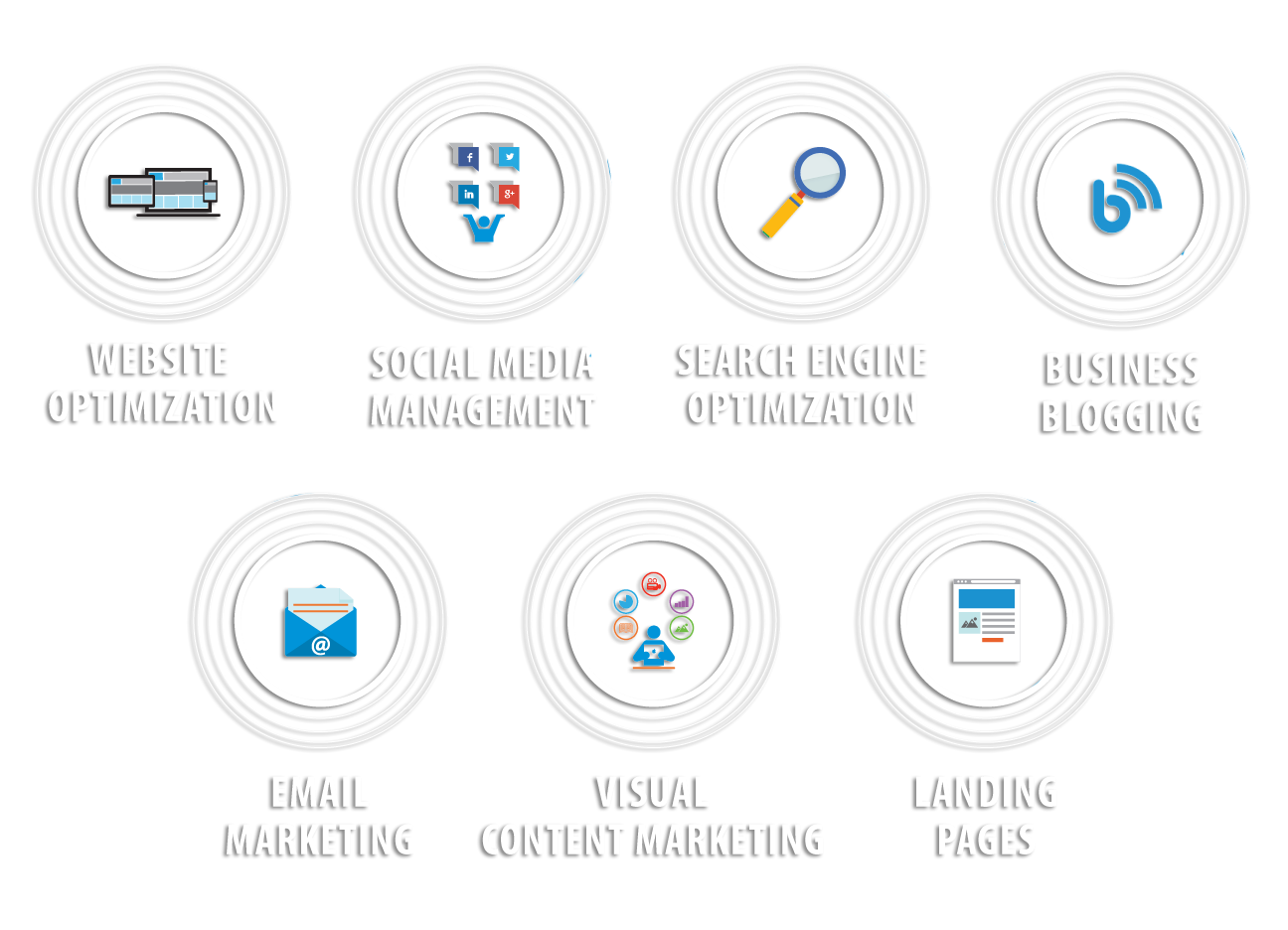 Start your digital marketing campaigns starting less than $85 per day.
Our Content Marketing Solution
We don't want to talk about outsourcing your content marketing. We want to talk about identifying gaps and opportunities in your marketing and sales process and how you can leverage content marketing package to impact what is most important: your company growth goals.
Our content marketing plan will identify critical benchmarks for success and layout 6 or 12 months of content marketing tasks to be completed in order to reach these benchmarks.

Included in the Content Marketing Plan is the following:
Analysis of Your Current Content Marketing & Brand
An Outline of Your Business Goals on Content Marketing
A Competitive Analysis
Development of Your Value Proposition
Development of Your Buyer Personas
Definition of Qualified Leads
Development of Your Key Performance Indicators (KPI's)
Campaign Development Strategy: Tasks Required to Launch Campaign
Measurement & Reporting Strategy
Content Marketing Strategy
Website Optimization Strategy
Search Engine Optimization Strategy
Social Media Marketing Strategy
Email Marketing & Lead Nurturing Strategy
Our content marketing strategy for your business is completed within the first 30 days. You will always be in the loop from strategy to implementation as our content marketing package includes a new client on-boarding call, weekly status calls, and monthly audit reporting.
Our content marketing package often combine these digital pieces:
Content Marketing Audit – This is where we determine all the content assets your team already has, in whatever format or state. (Note: you've got a lot more than you think).
Content Marketing Strategy
 – In which we determine your business goals, personas, value proposition and opportunities in the market, then we transform them into plan of action, editorial calendars and KPIs.
Content Campaign Development
 – Where we develop ideas for compelling content, then we design and package these new stories into powerful content that your prospects will love (and share).
Content Distribution
 – Driving your content to audience – and your audience to your content – implementing social media management, blogging, email, seo, ad campaigns… whatever.
Lead Nurturing
 – What works is engaging each prospect in a series of ongoing communications, delivering consistent messages and relevant content to inform, educate and nurture along until they're sales-ready.
Analytics
 Reporting – Setting up the right metrics and the best ways to track them, as well as tie campaign efforts back to the types of productivity you ultimately care most about: Traffic, Leads and Customers.
Need more than just content marketing, consider adding the following:
Print Design Marketing – Remember print? It's making a comeback. When all your competitor zig towards digital, you might want to consider a zag that drops something beautiful on to the laps of your prospects. You'd be surprised how surprising that can be.
Marketing Automation – Marketing automation and lead nurturing are hugely powerful ways to turn a marketing budget into a proper revenue pipeline. And prove it.  We can work with whatever marketing automation system you've got – or recommend the right one for you (and help set it up). Either way, we like building and tracking purchase paths that lead to your sales team's door. Knock-knock.
*note our team is familiar with most marketing automation tools such as: Act-On, HubSpot, Marketo, Infusionsoft to name a few.
If you'd like to explore what integrated content marketing programs could add to your marketing, talk to us.
All retainer packages are customized and priced according to the client's level of agency services needed.
Once the assets are in place and we begin to start driving traffic, leads, and customers. Our team will work closely with you on a retainer basis to perform content marketing tasks, develop concepts, design visual content, monitor your KPI's and improve your ROI.
Here are common tasks are performed in out Monthly Retainer Packages:
Routine creation of marketing concepts.
Modifications and updates to the Content Marketing Plan.
Monitoring of Benchmarks Key Performance Indicators.
Routine Analysis of Your Marketing.
Creation of Campaign Reports
Routine reporting on Marketing ROI
A/B Testing on Landing Pages and CTA's.
Optimization of Lead Nurturing Campaigns.
Creation of new Premium Content, Landing Pages, and CTA's.
Creation of Blogs
Ongoing Social Media Marketing & Management
Creation & distribution of Visual Content: Infographics and eBooks
Content Creation
CRM Management & Support.
Monthly Retainer Packages start at $2,500 per month.
We Offer More Value Than Our Competitors
Other content marketing agencies set a limit on the number of work hours you get in a package – we don't!
You're aware that the landscape has changed, and have come to the realization that something has to be done. You also realize you don't have the time or resources. You need help. Our number one goal is to HELP YOU achieve your objectives, not billable hours. We specialize in the "heavy lifting" of content marketing. The development, the distribution, with the integration of your revenue growth goals, all scheduled within a feasible time frame. Quite frankly, we don't have the time to nit pick about the "hours".
Our mission is to have you go to bed and sleep like a baby knowing that you made the right investment with Aiden Marketing. Our proven methods and professionalism speak for themselves through measurable results. You can now focus on the bigger picture … what to do with all the new leads in your pipeline.
Integrated Content Marketing Solutions … Designed for the Small to Mid-Size Organization
Like what you hear? There are a few different ways to get started.
Let's Have A Talk