What Is Branding?
Branding is one of the most important aspects of any business, large or small, B2C or B2B. Your brand architecture is the foundation of your brand strategy. It is the essential key. Your brand architecture sets the foundation for all the other components of your brand, and aligns your personality traits, your means, your promise, your story, and your visual and operational requirements into a single unified structure. A well thought out organic brand strategy can give you an unparalleled edge in an increasingly competitive market if executed properly. It then becomes your legacy. But what exactly does "branding" mean? Let's clear up a few misconceptions.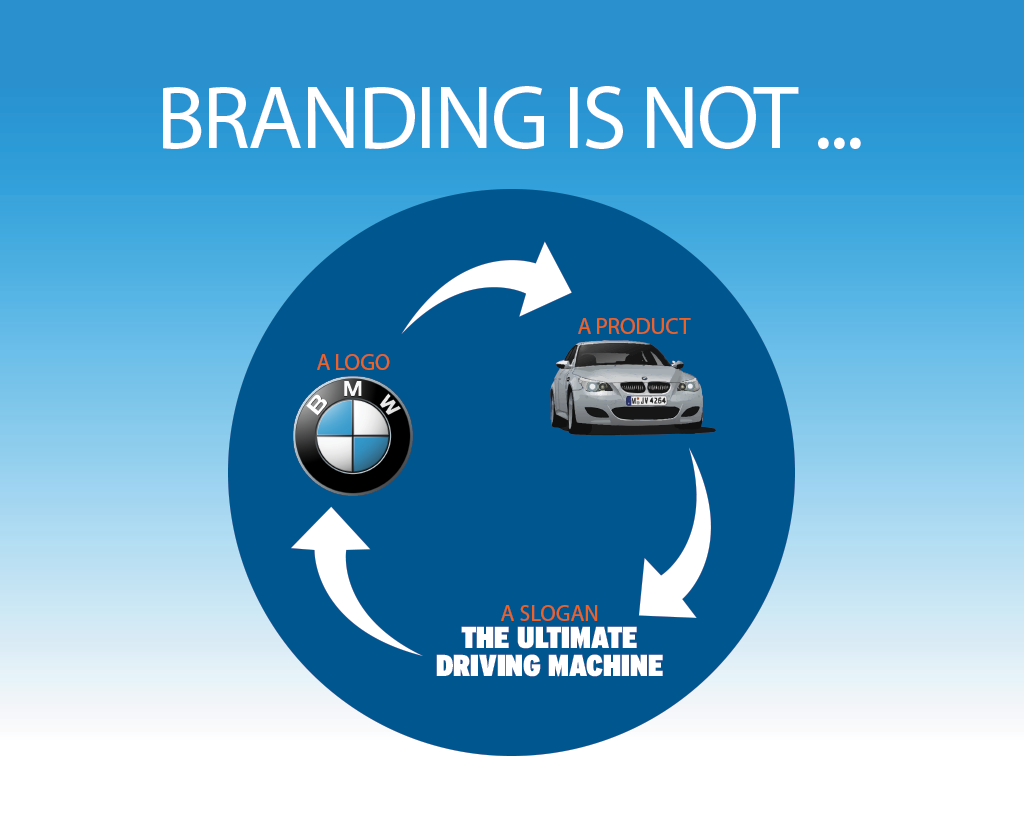 What does your brand deliver?
A brand promises something to consumers, sets their expectations, and meets those expectations in every interaction and experience. A brand connects by differentiating the experience for consumers. A consumer's positive or negative experience with your brand, your consistent level of messaging, and your company's ability to deliver on their expectations each and every time creates a perception of thoughts and emotions about your company. Brands that don't keep their promise will quickly find themselves on the road to failure. Why?
Brands are built by consumers, NOT companies! Your company can put out the tangible elements of a brand (logo, typeface, color) as well as intangible elements (messages, images, and promises) to try to nudge consumers into a desired action. However, it's through "the experiences" that consumers have with your company that brands are created. Branding impacts every part of your marketing strategy; therefore, building a strong brand needs to be a top priority for your business.
Prominent brands today engage their customers on an emotional level. Your brand structure should be built around the emotions you affect. This is the messaging that you want your brand to communicate effectively.
Aiden Marketing will help you identify all the necessary building blocks associated with what you need to establish a brand that will directly correlate to your overall business goals:
1.) Definition & Purpose of Your Personal Brand – The reason your brand matters to consumers should be reflected in the stated purpose as to why the brand exists. You then want to amplify those reasons into the "promise" that your brand can deliver consistently. It's also important to note that brand building is very much about defining the purpose of why the brand exists beyond moneymaking. A brand that stands the test of time is a brand that stands for something more important, and transcends product development, service delivery, and the capitalist nature of sales and marketing.
2.) Create a Personalized Branding Strategy – After we've determined the qualities that make your brand unique, our next step is to develop a branding strategy to help your business gain recognition and traction. The value your brand represents must be positioned in the minds of a target audience with exact precision. Always keep in mind that delivering on your promise to customers is more than making witty slogans, pretty brochures and eye-catching ad campaigns. Also, if your brand development mission starts and stops with a new logo, you have missed the whole point altogether. The process here is to build the kind of trust your customers can come to rely on; so they can reward you with their loyalty for as long as you deliver on your promise.
Need Branding Assistance?
We can help to establish an identity and define your brand with the message your company stands behind.

Ask Us How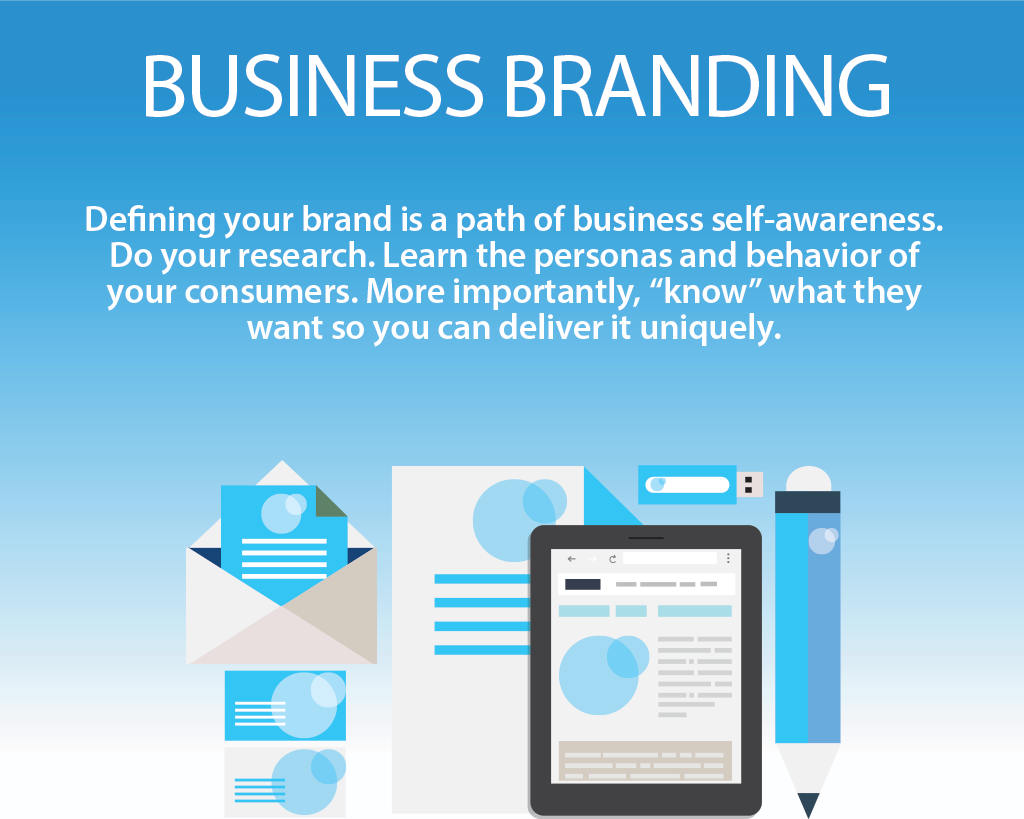 Brand Insistence Elements
Awareness - Are consumers aware of your brand? are you top of mind?
Accessibility - Is it easy and convenient for consumers to make a purchase?
Value - Do consumers believe your product/service is worth the price?
Differentiation - What is unique about you that separates you from the competition?
Emotional Connection - Do people like & trust your brand and tell others about you?
The ultimate outcome of brand building is converting your audience from brand awareness to brand insistence. Above are the five elements that drive a consumer to demand that you deliver on your promise.  We believe that if you adhere to these values your brand can reach a status where your customers will not accept "the next best thing".
Awareness
Number one, they should be aware of the many brands in your specific industry. More importantly they should be aware of the existence of your brand. Ideally, your brand should be top of mind. They should know which products and services your brand offers as well as the associated benefits. Finally, they should know or have a strong inkling as to where your brand is obtainable.
Accessibility
Your brand must be available where customers shop. Consumers can insist upon your brand if it is widely available. Slight brand preference goes a long way toward insistence when the brand is widely available. The importance of convenience cannot be underestimated in today's world.
Value
Does your brand deliver a good value that justifies the price? Do customers believe it is worth the price? Regardless of whether it is expensive or inexpensive, high end or low end, at the very least it must deliver good value.
Relevant Differentiation
This is the proverbial "game changer". Relevant differentiation today is a leading-edge indicator of profitability and market share tomorrow. Is your brand relevant enough that your customers believe in the unique benefits that you promise?
Emotional Connection
Here's how it works. First, they must know your brand. Then they must like your brand. Finally, they must trust your brand and feel a connection to it. All of this can happen various ways. It can be achieved through advertising, the actual customer experience to customer memberships and company-sponsored client events.
3 Steps To Brand Building Success
When startups and budding companies reach a level of growth where an organic strategy for brand development becomes a critical need, quite often the entire procedure can begin and end with a brand new logo and website. We also know that business owners and their marketing department will place a lot of emphasis on the "look" of the brand. While these elements are important to the definition and expression of the brand, they're not the "rock" on which you want to build a successful brand strategy and development initiative.
If you're just coming around to thinking about your brand's growth in a serious manner, and you'd like your efforts to be perceived as more than a hopeful idea and a fleeting promise, allow us to offer a solution that can ensure your brand has the power to make an unforgettable presence in the marketplace.