Client:

Authentic Bartending School of Maryland
Date:

October 12, 2013
Since 2005, Authentic Bartending School of Maryland (a Maryland Higher Education Commission licensed, private career school) has offered bartending classes for students at every level. They desired a website redesign makeover that would be fresh and inviting to prospective students and employers, and a renewed brand strategy that would involve inbound marketing and content marketing tactics to achieve their business goals of:
Increasing the number of leads
Increasing actual class enrollment numbers
Outranking their "new-to-market"competitors locally in search results
Increasing their job placement rates
The Authentic Bartending School of Maryland offers the best and most comprehensive bartending/hospitality in the Maryland-DC-Northern Virginia metropolitan area and they wanted their online presence to properly reflect this.
Authentic Bartending School of Maryland's number one challenge was not having the internal bandwidth of resources to develop and execute a digital marketing strategy that encompassed all of the elements for an effective integrated inbound marketing campaign.
Additionally, their existing website was a flash website which prevented them from showing up in search results as much as they desired, and while the school had a presence on various social media platforms, members of the community were not actively engaging with the brand's pages.
Aiden Marketing was instrumental in the development and launch of a digital marketing strategy for the Authentic Bartending School of Maryland which started with our development of their Buyer Personas. The Buyer Personas we developed became the cornerstone of all our marketing activities for the school: value proposition development, copy development, creation of high-quality content marketing that attracts and engages prospects, current students, and employers; social media marketing and management with measurable results from engaging the target audience on the right channels, custom graphic design, promotional marketing material development, and website redesign and development.
Our Aiden Marketing team developed a new content rich website for the Authentic Bartending School of Maryland which supported a prospective students search online via search engines all of the way to the prospects enrollment to attend class.  This included visually-appealing website style and design, search engine optimization (SEO) with appropriate keywords & phrases, copywriting , development of various forms of content (videos, ebooks, whitepapers, etc.), and inclusion of  assets like blogs, social media integration, landing pages, as well as call-to-actions buttons, to get the school found and effectively generate qualified leads and student enrollments.
We also integrated and configured a new online course enrollment application into the website to let prospects seamlessly enroll in classes and pay a deposit online, integrated a comprehensive job listing portal for employers and graduates of Authentic Bartending School of Maryland, and created a students-only portal which allows students to access important documents.
Marketing Strategy, Buyer Personal Development, Branding, Website Redesign, Inbound Marketing, Social Media Management
Educational Content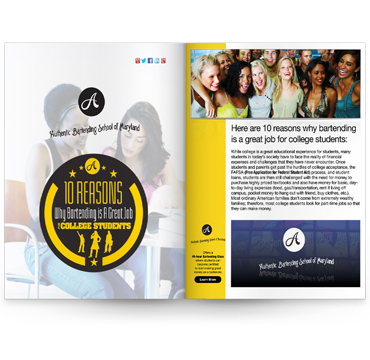 We developed an e-book to speak to the "college student who is looking to earn extra money" buyer persona for the Authentic Bartender School of Maryland to inform prospects, to guide them to make better "buying decisions" on becoming a professional bartender, and to convert prospects into high-quality leads.
Trust Building Content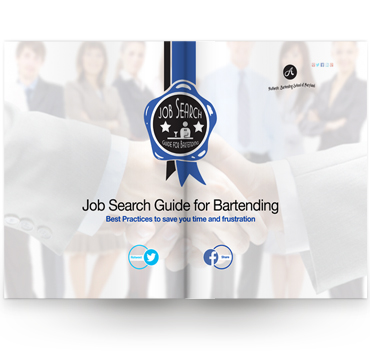 We developed and designed a "Job Search Guide for Bartending" whitepaper filled with specific and applicable advise and tips to further establish Authentic Bartending School of Maryland as a trusted resource that not only cared about training students, but also cared about helping them to find jobs in the professional bartending field.
Social Media Management Services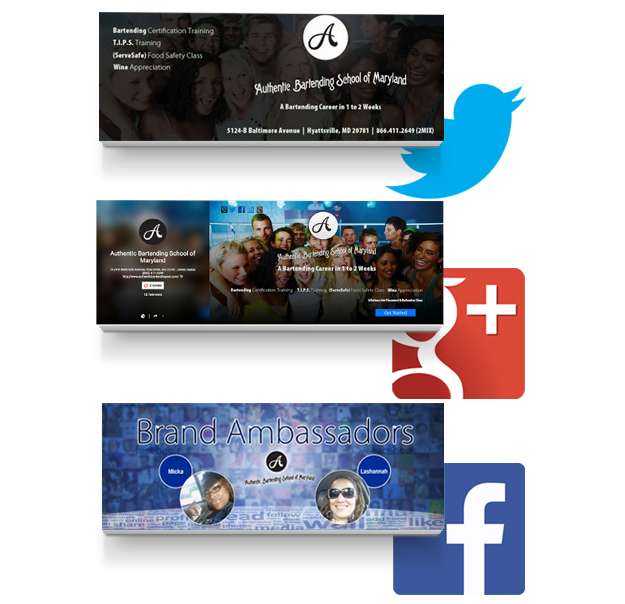 We produced custom graphic designs for content marketing on Authentic Bartending School of Maryland's "owned" social media networks. We will not only composed the copy for online social media messaging; we also created visually appealing multi-media content that brought results of exponential growth in reach and engagement of conversations by their online communities, along with lead generation and conversions. Our team also effectively monitored the online reputation of the school and responded to all mentions of its name.
Community Contributed Content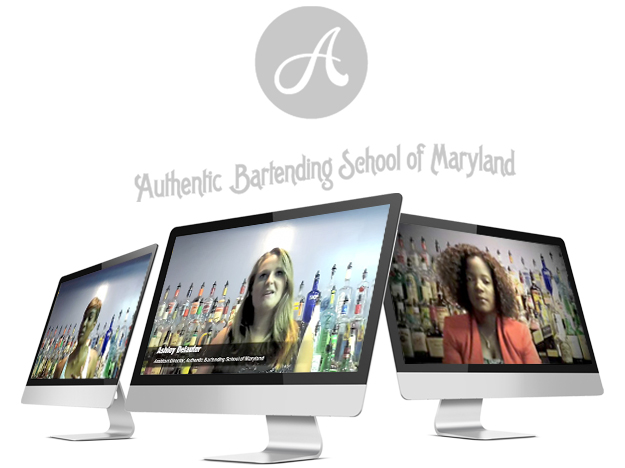 We coordinated the participation of Authentic Bartending School of Maryland's management team and students (their customers) in the production of user-generated content which serves to be instrumental in building brand loyalty and an actively engaged online community. Creating short videos allowed the school to effectively illustrate the proof of results from the bartending classes and provided them with another form of measurable content marketing.