Automation means "set it & forget it" for most, but is this meaning relevant in marketing? Automating marketing means streamlining certain activities and saving time that can be put to better use. Forgetting or neglecting those activities would probably be one of the biggest pitfalls of implementing marketing automation.
Automated tasks are important. Neglecting to monitor, optimize, and update them could jeopardize your entire marketing campaign. It is true that some marketing activities need more attention than others, but deciding which should get more attention and which should be left out is not that easy. This is why specialists recommend outsourcing marketing automation configuration and implementation, and many businesses congratulate themselves for following their lead.
If you decide to take marketing automation upon yourself, you should at least make sure to avoid the mistakes many business and inexperienced marketing managers make.
The 5 Pitfalls of Implementing Marketing Automation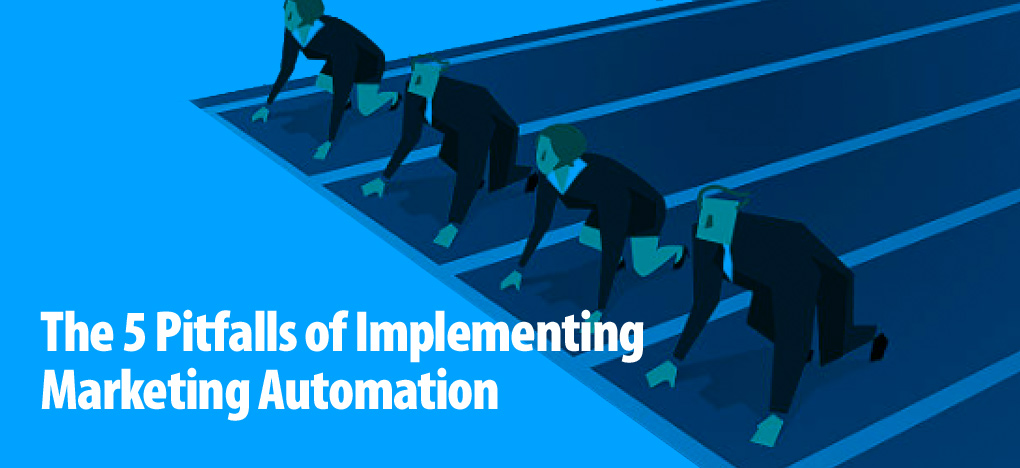 Using inadequate marketing automation tools
Even if your software provider touts the automation capabilities of their programs, in reality, their functionality may be limited. For example, blind auto-responders could not work correctly without intelligent data. Certain tools could require software expertise to be properly set up. This is why you need to work with professionals who are familiar with various platforms, can determine the requirements, goals, and resources of your business, and can help you choose the appropriate tools.
Incorrect setup
While nurturing leads, one of the biggest pitfalls is to send them inappropriate or irrelevant content that could determine them to unsubscribe. This happens when the wrong selection criteria is setup and the automation is implemented without further verifications.
Ineffective intelligence programs
For you, drawn traffic is valuable only if it allows you to generate qualified leads and turn them into actual buyers. Some programs are not able to distinguish random visits and click-throughs that never convert into sales from targeted visits that end or have the potential to end with an acquisition.
Inefficient lead scoring
Tracking the online activity of your leads and their engagement with your products or services could help you know how likely they are to remain interested in your offer. If your scoring model is not effective, you will not understand the sales cycle correctly and you will not be able to generate and pursue high-quality leads. This could create a big rift between your marketing and sales teams.
Irrelevant messaging
If your marketing messages are not properly targeted, they will basically waste resources. Irrelevant messages are not neutral, but rather harmful. They can irritate leads and prevent conversion.
Perhaps these pitfalls of implementing marketing automation are already part of your business' reality, but perhaps you can still avoid them. At Aiden Marketing, we have been dealing with them for years. Contact us for a free Inbound Marketing Assessment now and let us help you identify and avoid all marketing pitfalls and guide you in the right direction.