5 Ways to Get More People to Read Your Blog – Implement Today
---
Blogging is a very effective digital marketing tactic to build awareness about your business. Some of the common blogging questions that B2B and B2C business have are: What should I write about in my blog? How do I make people aware of my blog in an ocean of websites? What are the best ways to get people to read my blog and leave comments? If you desire to drive more traffic your blog articles, read further to learn effective steps to promote your content and ways to get people to read your blog.
You can improve your blog's popularity and efficiency by sticking to a few simple principles. The challenge that most marketers have is that blogging requires time and effort that they may not have available; however, we assure you that implementing the steps below will be well worth it. If you need assistance with implementing a results-driven digital marketing strategy for your business' growth, request a FREE Marketing Advice call today.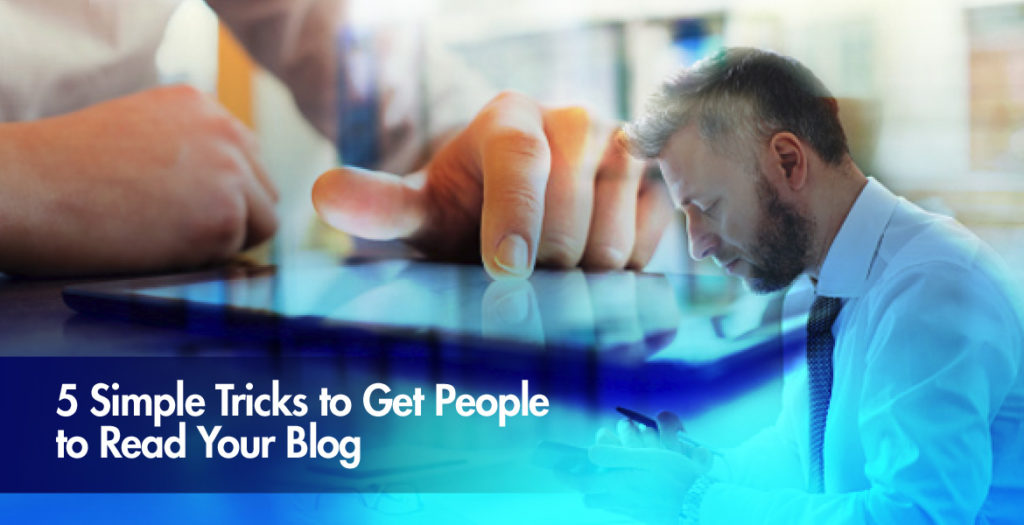 5 Simple Tricks to Get People to Read Your Blog
Promoting your business through blogging also means doing everything necessary for potential customers to see your content. To reach this goal, do not ignore the following five techniques:

FIRST – Optimize your blog posts for SEO. To bring new prospects to your website, you need to make sure they find it and this only happens if your site is on the first page(s) of search results. This is why your content needs to include SEO (search engine optimization). You should optimize your blog by including relevant keywords in the meta-description, on-page body text of the blog, and within the file name structure of images within the page. Additionally, you should include alternative text (alt-text) for images and link key phrases within the blog article to other pages on your website.

SECOND – Choose engaging, exciting headlines. It is human nature to judge a book by its cover; however, when it comes to newspapers or blog posts, we judge them by the headlines. If the headline stirs curiosity, people will at least browse through the article. If the headline doesn't peak readers' interests, no one will bother clicking to read the article — no matter how well-written and engaging it is. To make your headlines attractive, use numbers and phrases pinpointing a unique discovery, breaking news, a story, or exclusive information that they will not find available anywhere else (or only via limited outlets). To get more people to read your blog, you must create a headline that will engage your targeted audience.

THIRD – Share your blog posts on social media. As a common component of the lives of millions of people every day, social media is a very efficient way to engage existing readers and draw the attention of new ones. When you share your blog articles out on various social media platforms, there's a huge potential to get more people to read your blog. You'll be able to make your current social media followers aware of your new blog post, and every like, share, or comment from them will bring your blog to the attention of their friends. You'll also get lots of new readers from posting your blog to social media so it's important that both your headline and the content of the blog are engaging — this will lead to new blog subscriber signups. Remember that every social media platform is different; thus, your status update when sharing your blog needs to be crafted in an effective way for the audiences on the specific social media platform.

FOURTH – Make your content easy to share. Spice up your blog posts with social sharing buttons and calls to action! If you stumbled across a really good sale online, you would want (and expect) to be able to share it out easily with your friends. Well, the same thing goes for your blog articles. It's essential that your blog include easy-to-find and simple 1-click social sharing buttons for your readers to share the content they find relevant and valuable with their personal network of contacts. Offering custom, pre-structured messages for your readers to share with the content is plus.

FIFTH – Invite guest bloggers to post fresh content. Guest bloggers come with their own style, and this means variety for your blog. Moreover, if they already have a name and a group of followers as bloggers and they share the post they wrote for you with their own networks, your chances to get more blog readers are even higher.

Advanced Strategies Bonus Tips: 3 Simple Steps to Drive More Traffic to Your Blog
We encourage you to view Neil Patel's video where he shares 3 easy steps to drive more traffic to your blog by leveraging blog articles that you've already written and published:
Change your title tags on blogs that have a click-thru rate (CTR) or less than 5% to increase their search rankings
Continuously share out your old, evergreen blog posts via social media. Use Open Graph via SEO Yoast which allows you to easily change the meta description of the blog article when you re-share it out again.
Repurpose your blog content into videos, podcasts, infographics, ebooks and post your blog directly in Linkedin.
It is not that difficult to get people to read your blog, especially if you use the right resources.
---
Request Your FREE Marketing Advice Call Today!
Discover ways to overcome your company's marketing challenges. Take advantage of the opportunity to speak to one of our inbound marketing experts, at absolutely no-cost! We'll provide recommendations to help you improve the performance of your marketing efforts.