Small Business Owners Get Business & Marketing Expertise To Grow & Thrive
---
More than 250 small and medium business owners attended the Greater Baltimore Urban League 4th Annual Business Summit held on April 28, 2018, at the Hyatt Regency Hotel, located in Baltimore's premier Inner Harbor area. Commonly recognized as a "must-attend" event for entrepreneurs in the startup, growth, and expansion business stages, the theme of this year's Business Summit was "Start Right. Get Right. Grow Right.", and featured Gale V. King, Executive Vice President and Chief Administrative Officer for Nationwide, as the keynote speaker.
Our Aiden Marketing agency was proud to participate in the summit as an exhibitor, and our Chief Experience Officer (CXO) – Stacie Price, was a speaker for the "Get the Right Customers: Marketing for Small Businesses" workshop. The Greater Baltimore Urban League (GBUL) Business Summit agenda featured an exceptional line-up of subject-matter expert speakers from a wide range of business topics – increasing sales, acquiring an existing business, marketing strategies, government contract procurement, business credit, and access to capital through bank loans and investors.
Commitment to Economic Self-Reliance & Parity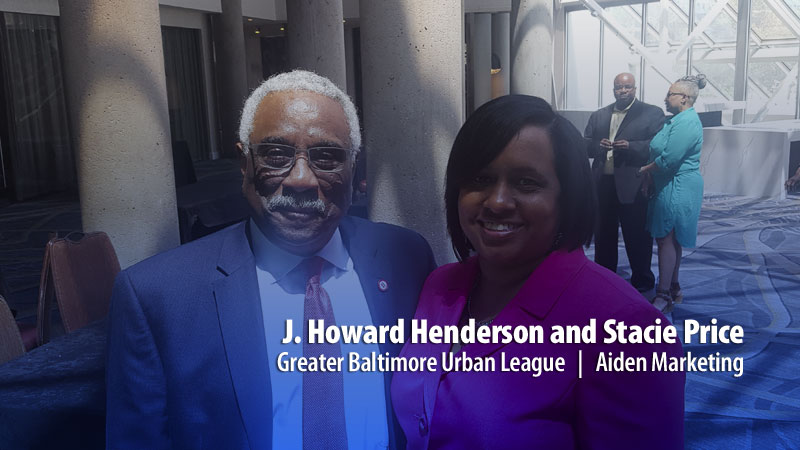 The Business Summit, along with the GBUL's Whitney M. Young Gala that took place the night before, was a part of a very special weekend honoring the legacy of J. Howard Henderson, the President & CEO of the Greater Baltimore Urban League, who will be retiring later this year. For forty years, J. Howard Henderson has been nationally recognized for his expertise in the areas of civil and human rights, and his career has included being a former member of the national executive leadership team of the NAACP before taking the helm of the Greater Baltimore Urban League – an affiliate of the National Urban League. During the past 30 years, he has been involved in many of the major civil rights issues, including affirmative action, economic parity, political empowerment, fair housing, and education.
Preparing Business Owners for Marketing Success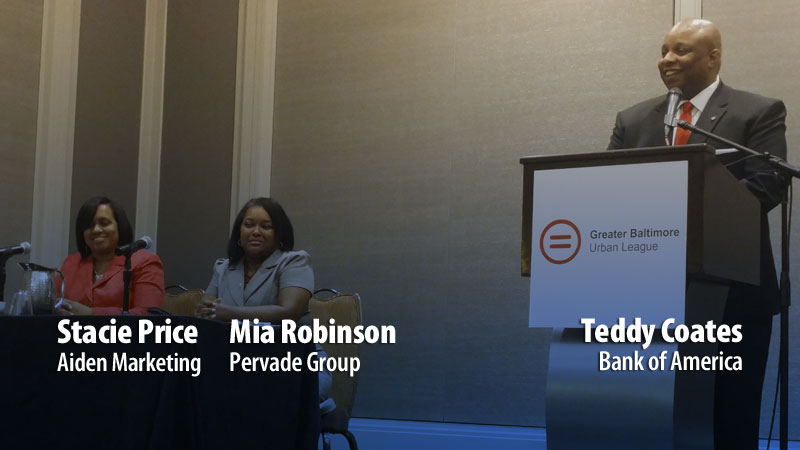 The 2018 GBUL Business Summit was designed specifically to provide support, information, and resources to minority, women and veteran-owned businesses. One of the workshop sessions, Get the Right Customers: Marketing for Small Businesses, featured Teddy Coates – AVP & Financial Center Manager for Bank of America who shared the importance of customer service as part of a business' marketing strategy, Mia Robinson – President of The Prevade Group who offered tips for branding and non-profit event marketing and fundraising, and Aiden Marketing CXO, Stacie Price, who taught workshop attendees the importance of knowing your buyer personas and how leveraging digitial inbound marketing strategies is vital to growing business revenues in a society where marketing has changed forever.
Price stressed the fact that consumers and B2B buyers are self-educating themselves online when considering a product or service); therefore, it's critical that companies have relevant and engaging content marketing assets, as part of their digital marketing strategy, in order to generate quality leads and convert them to customers.
As part of our effort to empower business owners with tools to improve their marketing efforts and to kick off our celebration of National Small Business Week, Aiden Marketing offered summit attendees who stopped by our table 3 free digital marketing eBooks.
Aiden Marketing's Next Event: Digital Marketing Revolution Workshop – Sat., June 2, 2018
Are you a business owner or marketer of a growing business that desires to take your business to the next level? Gain marketing strategies and tools to help you win more business and generate profits in the era of the empowered customer.  We invite you to register to attend Aiden Marketing's Digitial Marketing Revolution workshop on Saturday, June 2, 2018. Click here to learn more and register today!
---
PICTURES: Greater Baltimore Urban League Business Summit