10 Must-Haves For Your 2014 Digital Marketing Plan – Part 1
---
If you are looking to get your business in position for a rewarding 2014 with sales growth, then the best tool that you can have in your toolkit to help you accomplish your goals is a solid digital marketing plan. If you haven't done so already, we strongly recommend that you take some time over this holiday season to work on your 2014 marketing plan. Having or not having a marketing plan for 2014 can be the difference between feast or famine for your business — choose wisely.
As you start working on your 2014 digital marketing plan, you'll want to assess how your business fared in 2013.  Did you reach your 2013 business growth goals?  If you did or if you didn't, analyzing the data tied to your 2013 business performance is essential as your construct your goals for 2014. You could probably come up with a list of 20 different goals that you'd like to achieve in 2014; however, we recommend that you pick 3 – 5 priority business goals that you'll set out to achieve and build all of your marketing efforts around achieving those goals. Display your sales goal creatively and prominently in your office as a daily reminder.
So, what should you include in your 2014 digital marketing plan? Our Aiden Marketing team has put together  a list of 10 things you must have included in your 2014 Marketing Plan. The list below outline #1 – #5 and the remainder of the list will be in our next blog post.
10 Must-Haves For Your 2014 Digital Marketing Plan: #1 – #5
BUYER PERSONAS: In today's world, just knowing the demographics of your target audience is not enough. Before you even lift one finger to implement a task connected to a marketing campaign, the first thing you need to do is to map out your buyer personas. Think you know your target audience of potential buyers? Well, developing your buyer personas will help to understand your buyer so much better — their personality, their pains, their motivations, their job title, their education level, the questions they have, the solutions they are looking for them, how they search for solutions, and what influences their purchasing decisions, and more. Why are buyer personas so important?  Without identifying your buyer personas, you could go down a road of executing a marketing campaign that fizzles before it even gets started good because the content and messaging was not of interest to your buyer persona. Therefore, be sure to take time to identify your buyer personas carefully. If you aren't sure where to start in creating your buyer personas, enlist the help of an inbound marketing agency who make buyer personas a prerequisite of all their marketing services.
MARKETING AUTOMATION: If your goals include reaching more prospects, getting more qualified leads, converting more prospects into paying customers, providing quality customer service, and developing deeper relationships with past and current customers, then having an inbound marketing automation software solution is a must. Your online marketing efforts will not make the biggest possible impact without an automated marketing solution..An inbound marketing solution can help you to be more effective and efficient in executing and measuring your efforts and the results of social media marketing, blogging, lead generation, lead management and nurture programs, email marketing, search engine optimization (seo) of your website, and data analytics. It's also the answer to helping to aligning your sales and marketing departments more effectively via CRM integration and operational workflow improvement. If your company is using a marketing automation solution, but are not leveraging the full potential of the software, consider investing in help from an inbound marketing agency like Aiden Marketing. If your business is not using an inbound marketing software solution, then add it to your wish list and take advantage of our FREE Inbound Marketing Assessment.
CONTENT MARKETING STRATEGY: Content marketing is defined as creating and distributing relevant and valuable content to attract, acquire, and engage a clearly defined and understood target audience – with the objective of driving profitable customer action. Since content is king, having a strategy that includes use of great content mix (blogs, video, social media, website, podcasts, webinars, and more) by which you provide the highest and most effective content as possible becomes a mandate. Not sure where to get started, download our FREE Content Marketing Strategy Playbook and contact us with any questions you may have.
RESPONSIVE WEB DESIGN: Your company's website serves as the hub for all marketing efforts — online and offline. Now ask yourself 4 questions: Is your current website helping you to generate new customers and new sales? Do you have responsive website design — allowing all visitors from mobile phones, tablets, or desktops to easily view your site and to have a great experience when they visit your site? Is your website seo-optimized? If you answered no to any of these questions, then you are in need of a website makeover. Have a responsive, mobile-friendly website is the most important component of your 2014 marketing plan. When is the last time your website was updated?  A website is not a leave and forget marketing component — it's the heart of your total marketing machine; therefore, if it's not not in peak health, it's unhealthy status will have a negative impact on your other marketing campaigns. If you haven't  had a website redesign in a few years, then 2014 is the year to make it happen. If you've had a recent website redesign, but your site is not helping your business make money, then you could benefit from an effective website redesign in 2014 to include more functionality, features, and content to attract and convert your target audience. Click HERE to get a FREE Website Evaluation of your current website today that will include an assessment and recommendations of what enhancements are needed to establish a credible online presence that produces leads and sales for your company .
SOCIAL MEDIA STRATEGY: Whether you have dipped your feet in the water, are still straddling the fence, or have jumped in headfirst, one thing for sure is that social media is here to stay. As a small business owner or CEO of a large enterprise, you can no longer ignore the power of social media and what it can do for your business to reach your growth goals. As we approach 2014, the question to ask yourself as you map out your marketing plan is, "What would be the cost of NOT having an aggressive social media strategy?" Your target audience, current customers, and your competitors are all on social media platforms so it's imperative that your company is an active participant in the social media stratosphere with a well-thought out strategy to execute. The keys to reaping results from social media are consistency, engagement, empowerment, and sharing relevant content and messaging in your social media posts. While participating on social media platforms is free, it does take time (your most valuable resource) and effort to yield results from social media marketing. If your time is limited like most business owners, you don't have the time to dedicate to social media marketing in the way that it really should be done to produce your desired results. Consider outsourcing this task to a social media marketing agency like Aiden Marketing. Click HERE to get a FREE Social Media Audit today in order to start 2014 off on the right foot.
Want to make sure that you receive numbers 6 – 10 of in next installment of 10 Must-Haves For Your Digital Marketing Plan blog series, then be sure to subscribe to our blog by clicking here (or you can simply come back and check our website).
Start Today Tip: Creating a comprehensive 2014 marketing strategy plan can take an investment of time and resources, but the planning will make execution of the strategy cost-effective and efficient. The good news is that you don't have to plan alone. Consult with an inbound marketing team like Aiden Marketing to identify, develop, and implement the best marketing strategy for your company in 2014 within your marketing budget.
REQUEST A FREE INBOUND MARKETING ASSESSMENT
Schedule a free inbound marketing assessment with one of our inbound marketing specialists and we'll review your business goals, analyze your current website and online marketing efforts (social media, blogging, customer reviews, etc.), and then suggest an inbound marketing program that is best suited to helping you succeed.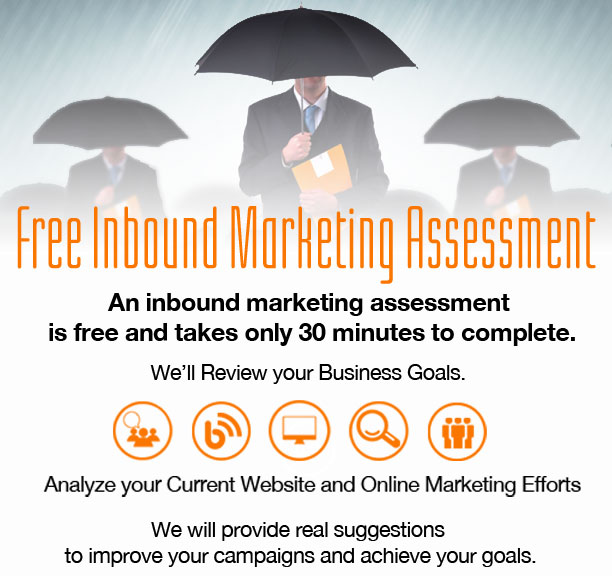 ---