Be Sweet & Shop Small Business for Valentine's Day
---
Valentine's Day is the second biggest consumer spending holiday (only behind Christmas) in the U.S. For 2016, it's estimated that people will spend close to 20 billion dollars on gifts of all types for people (and sometimes event pets) in their lives. The U.S. Small Business Administration kicked off an initiative this year named "Be Sweet on Small Business" to encourage people to shop locally in their hometowns as they seek out the perfect gifts and experiences for Valentine's Day and our team at Aiden Marketing is in total agreement. Since Valentine's Day falls on a Sunday this year, today is Small Business Saturday for this love-filled weekend.
So, if you are looking to buy flowers, cards, candy, jewelry, gift cards, tech gadgets, clothing or are planning to go out to dinner, the spa or a romantic staycation at a local hotel or bed and breakfast in your state, or desire to get a unique gift as your expression of love, we encourage you to spread the love and spend your dollars at a local small business.

4 Reasons To Shop Small Business for Valentine's Day
1) Small Businesses Offer More Unique Products
When you shop a local, independent retail store, restaurant or other type of business, you'll get both a warm experience and an opportunity to give the love of your life a gift that isn't a mass-produced item like those found at big box chain stores. You'll be able to find locally-made original gifts and specialty gift items by brands that you can't find any and everywhere, or you can opt to enjoy a one-of-a-kind dining experience and speciality drinks at a local restaurant with your significant other.

2) Shop Small to Help Create & Retain Jobs
According to the SBA, the 28 million small businesses in America account for 54% of all sales in the U.S, and small businesses have provided 55% of all jobs and 66% of all new jobs since the 1970s. When you make a purchase at a small business, you are doing your part to stimulate the local economy.By buying local, you are helping to ensure more jobs and job stability for local residents.

3) Small Businesses Give Back & Strengthen Communities
It's reported that that over 90% of small-business owners make a positive impact on their communities through volunteering, in-kind contributions, and/or direct cash donations on a consistent basis. Additionally, small businesses are more likely to develop partnerships and strengthen ties with people in the neighborhood. With that in mind, you can "pay it forward" by making a purchase at a small business.

4) Support the American Dream
Small business owners are the embodiment of the American Dream. When you buy local, you as a customer become a supporting member of that business' dream of being successful.

---
Last Minute Valentine's Day Social Media Contest Ideas for Businesses
We outlined the reasons to shop small business for Valentine's Day above, but on the other side of the coin, we know and understand that many small business owners may have not had time to plan and execute a major holiday marketing campaing. So, we are sharing and infographic of some quick, last-minute Valentine's Day social media marketing contest ideas that every small business can easily implement within 5 – 10 minutes on their Facebook business page in an interactive way to spark engagement from your online community of prospective and current customers and their friends. If you are looking to learn how to implement social media marketing best practices all year long, CLICK HERE to download a FREE whitepaper.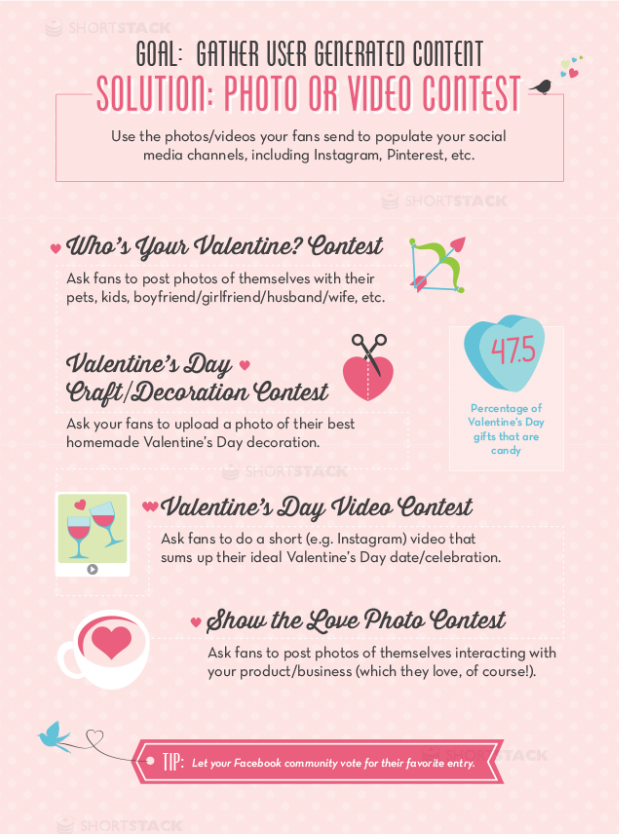 What local small business are you going to buy something from this Valentine's weekend? If you are a business owner, let us know what Valentine's Day deals and promotions you have going on? Please leave a comment below.