When does a healthcare organization decide it's time for a rebranding of their corporate image? In this case, the decision was related to the client's business growth goals to increase awareness and serve more people who suffer with mental health challenges.
BACKGROUND:
Changing Turn Community Healthcare Services is a highly respected, licensed community mental health organization that offers an array of services aimed at the management rehabilitation and well being of children, adolescents, adults and their families in the following counties within Maryland, Baltimore City, Baltimore County, Harford County, and Cecil County. Some of the services that they are offer are Therapeutic Behavioral Services, Psychiatric Rehabilitative Services, and Rehabilitative/Therapeutic Mentoring. They are dedicated to building lasting partnerships in the community and helping to improve the overall mental, emotional, and physical health of the children and families they serve. However, they had a branding challenge as their company website and logo were outdated and did not properly reflect their corporate image.
THE CHALLENGE:
With Changing Turn Community Healthcare Services being a provider of rehabilitative mental health services, our Aiden Marketing team faced the challenge of confidently pairing our brand development with the culture and vision of the client's executive team. While our Aiden Marketing team has worked with other clients in the healthcare industry in the past, Changing Turn was our first mental health organization client.
OUR SOLUTION:
By doing extensive market research and building out the buyer personas of the types of people who are involved in the decision making to request the type of mental services offered by Changing Turn Community Healthcare Services, along with ensuring that the new logo and website would be visually appealing , our team at Aiden Marketing successfully did a 360 degree website redesign makeover and branding / logo upgrade. The owner and entire team  Changing Turn Community Healthcare Services has expressed extreme satisfaction with the our work.  The new website for Changing Turn Community Healthcare Services (www.changingturn.org) was launched on January 4, 2014.
Here is the before & after screenshots of the website redesign done by Aiden Marketing: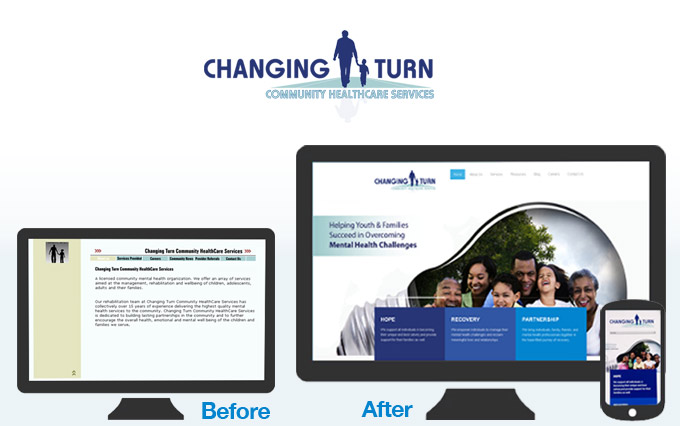 The new website we built for Changing Turn Community Healthcare Services is very interactive and features information on all of their mental health services; includes convenient, lead-generation on-line forms so visitors can request appointments and make referrals; a photo gallery; mental health infographics and videos; a blog that will feature relevant mental health tips and resources; social media integration, and much more.
At Aiden Marketing, we value exceptional design and  great functionality in our website designs, and ensuring that their is a great user experience when visitors come to a website is a top priority. Additionally, functionality of a brand identity element like a logo is also very important as the design has to be one that will represent the company and also work easily in print, hard copy and electronically.
We invite you to take a tour of our client's new website at www.changingturn.org and provide us your feedback below in the comments section. Additionally, you company is considering establishing a new website for your business or if you are in need of website redesign, contact our Aiden Marketing team by clicking HERE.
First Impressions Count! Is It Time For A Company Website Redesign?
Get A Free Website Evaluation Today!