About The Client:
Jack Schwebel, a high respected businessman in Baltimore, Maryland is the Chairman and Chief Investment Officer (CIO) for Golden Leaf Holdings and is an advisor for a hedge fund at Berkshire Capital Management, based of New York. Schwebel graduated with Honors from Johns Hopkins University in 1996, obtaining his MBA, with a concentration on restricted securities, after completing a Bachelors and Masters Degree in Talmudic Law (1994). During his 20 year career, Jack Schwebel has worked on both Wall Street in New York and Bay Street in Toronto, Canada. He was instrumental in raising over approximately $750 million for small cap and micro-cap public companies during his tenure. His expertise concentrates on the structure of issuer and investor friendly transactions, as well as the transition of companies from the private to public arena. Jack has exclusive relationships with both institutional and accredited investors, market makers, and IR/PR firms.
Project Overview:
The Need: The client did not have an personal online web presence and his activity on social media platforms was sporadic with long periods of non-activity at times due to his busy schedule as an entrepreneur and investment advisor.
The Solution: Our Aiden Marketing team build a vibrate, personal blog website for Jack Schwebel at www.jackschwebel.com to serve as hub for Jack to be able to share his thought leadership and personal views on topics. The title of the blog is "Risk & Reward in All Areas of Life".  Additionally, our inbound marketing agency recognizes the benefits of the use of social media for CEOs and C-level executives. We advised Jack that CEOs who use social media are growing their businesses, attracting lifelong customers, generating exposure for their companies and closing new deals. In today's society, B2B and B2C customers are more socially savvy so company leaders must become a part of the conversation. Thus, in addition to Jack pledging to become more active on social media, Aiden Marketing is providing supplemental social media marketing and management and content marketing for Jack Schwebel. Between the his new blog website and being active on social media, Jack will be able to provide thought leadership and attract new partners, vendors, talent, and customers for his business ventures.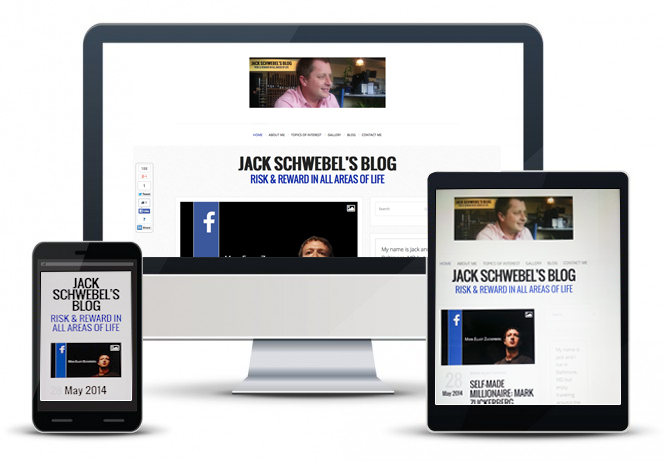 Jack was excited to share the results of our digital marketing efforts and sent the following communication to his network , "I'm exited to announce that my new "Risk & Reward" blog website has launched and I invite everyone to visit it at www.jackschwebel.com . I encourage people to leave a comment to one of my blog article or submit a suggestion of a possible article topic that you'd like for me to write about.  I'm expanding my digital footprint on the major social media platforms and would love for you to connect with me at my other social media profiles below. I'll be sure to reciprocate the connection by following you on Twitter, liking your Facebook business page, following you Google+, etc.  Get my latest insights and thought leadership on business, investment management, leadership, family, and various areas of risk and reward in life.

Our Aiden Marketing team optimized the social media profiles that Jack Schwebel had when he became a client and we also created new social media profiles on social media platforms where he didn't have a presence to fulfill his desire to "be where his customers are online and to be a part of digital conversations".
You can connect directly with our new client, Jack Schwebel, on the following platforms: